Hwang Investment Management Berhad

Hwang Investment Management (HwangIM) (Formerly known as HwangDBS Investment Management) is the only non-bank or non-insurance-backed investment house that has retained its position amongst the top five in Malaysia. Our business has grown in size and depth.
i. Our assets under management (AUM) as of 31 December 2011, amounted to RM11.6 billion - a whopping 580-fold increase over that of a mere RM20 million in 2001, when the firm opened its door for business a decade ago.
ii. Our range of products covers not only unit trust funds such as equities, bond, money market, capital protected, global, structured funds and feeder funds, Islamic equities, but also cash management solutions, discretionary mandates and wealth management products and services.
iii. Our clientele comprises a diverse group of clients: retail, corporate, wealth management agencies, government agencies and banking partners - more than 8,000 accounts to date.
iv. The team has also expanded from less than 20 people to a staff strength of over 130 today.
v. Network of branches has expanded from the Federal Territory of Kuala Lumpur to Penang, Perak, Johor, Sabah and Sarawak.
We attribute our growth and performance to our investment philosophy that is premised on delivering absolute returns. We define it as, delivering positive returns through various market conditions (and not merely outperforming the benchmark). This can be achieved as we employ active management in our investment strategies. We are committed to pushing the boundaries of our limits, exceed our investors' expectations and ultimately, achieve our aspiration as the Asian Financial Specialist of choice.
Facts & Figures
HwangIM was incorporated in Malaysia and began operations under the company name Hwang-DBS Unit Trust Berhad (HDBSUT) in 2001.
HwangIM is the product of the partnership between leading and listed integrated financial specialist, Hwang-DBS (M) Berhad (HDBS) and Singapore's DBS Asset Management Limited (DBSAM). DBSAM was a wholly-owned Singaporean subsidiary of Singapore's biggest local bank, DBS Bank Ltd. whereas HDBS is a listed entity with an excess of RM870 million1 in shareholders funds and is well known as one of Malaysia's leading integrated financial groups. On 30 September 2011 Nikko Asset Management Group (Nikko AM) completed its acquisition of DBSAM from DBS Bank Ltd (DBS) and as such, DBSAM is now wholly-owned by Tokyo-headquartered Nikko AM, a leading, independent Asian investment management franchise with USD 173 billion2 in assets under management. DBSAM will be renamed as Nikko Asset Management Asia Ltd (Nikko AM Asia) on 17 October 2011.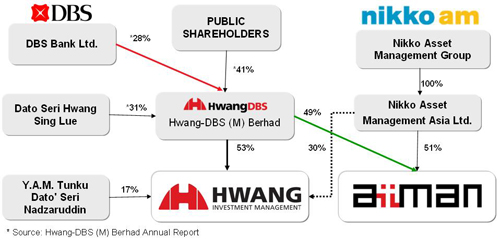 Shareholders of the HwangIM are HDBS (53%), Nikko AM Asia (30%) and Y.A.M. Tunku Dato' Seri Nadzaruddin Ibni Almarhum Tuanku Ja'afar (17%).
HwangIM has been growing its investor base to over 10,000 accounts to-date, comprising both corporate and retail investors.
HwangIM distributes its funds through its internal sales team, the Institutional Unit Trust Agents, Independent Financial Advisors and its own internal agents.
HwangIM's head office is located in Kuala Lumpur and the funds are distributed throughout its sales offices located in the Peninsular and East Malaysia, namely, Selangor, Penang, Kedah, Perak, Negeri Sembilan, Johor, Sabah and Sarawak.




Visit Hwang Investment Management Berhad corporate website here for more information.




____________________________________________________________________
1Source: Hwang-DBS Group as at 27 September 2011 (Financial Report Q4FY1)
2Source: AUM as at 30 June 2011, including AUM from pro-rata interest in Rongtong Fund Management for the same period